World Class Creations LLC is a technology innovation and holding company focused on creating enhanced and immersive experiences in cloud connected enterprises through the use of GPS, augmented reality, embedded systems, machine vision and spatial awareness. We have extensive experience in connecting amalgamate systems and devices into a streamlined network of technology assets used to solve complex business problems.  WCC provides over 50 years of combined experience in the fields of business intelligence, geographic information systems, enterprise virtualization, software development, hardware development, wireless transmissions, and telecommunications.  Our products offer a unique blend of services which integrate:
Robotics
Artificial intelligence & situational awareness using facial and body detection
Real-time data capture
From a wireless device to the cloud
Automated Video
Integrating video cameras with object recognition
Location awareness
Geospatial representation of data
Mobile connectivity
Using cellular data networks and Bluetooth
Predictive analytics
To improve decision making and performance
Watch The Video
See GameCart in action on the golf course! Recorded during a 4 player, multiple cart product trial session in Plano, TX.
GameCart Features
GameCart is an interactive golf entertainment system which connects multiple players and games into a unified gaming experience.
Virtual games and tournaments
Stroke play or scramble format
3D map with course features and shots
Shot distance and club recommendation
Automatic scoring by player and team
Video replay of swing and target
Player and game statistics
Hassle-Free Play
GameCart can be installed on any golf cart and playing it requires no preparation by the golfer.  Players interact with the system using wearable remote controls and a tablet on the golf cart.
Anyone renting a golf cart can play
Hands-free remote controls
Easy-view tablet display
Instant game updates between carts
Continuous connectivity
No device charging or app download
Follow Your Game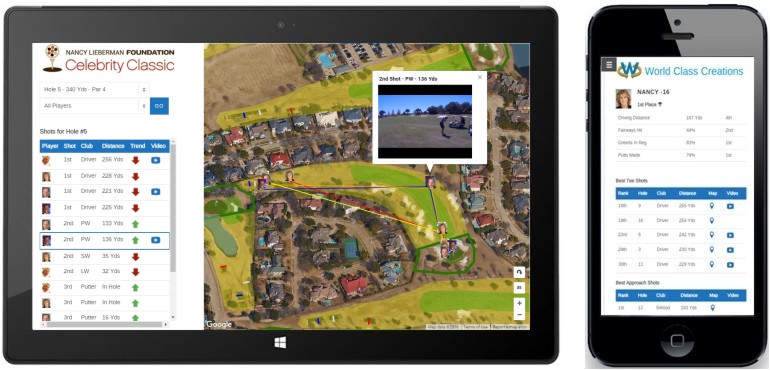 The Game Space provides access to GameCart content in the clubhouse, at home, or from a mobile device using a web browser.
Leaderboard – Scores and Rankings
Shot Map – Markers and Videos
Player Stats – Distances, Greens, Putts